In einem Fluss südlich der Alpen versammeln sich im Frühjahr Trüschen zu Dutzenden in der Uferzone eines grösseren Flusses.
Dans un cours d'eau du sud des Alpes, des douzaines de lottes se rassemblent au printemps au bord d'un grand cours d'eau.
Verso la fine dell'inverno, nel sottoriva di un fiume al Sud delle Alpi, si ritrovano dozzine di bottatrici.
At the end of winter in a river in the southern Alps, dozens of burbots meet close to the shore.
Dabei halten sie sich unter grösseren Felsbrocken, Wurzelstöcken oder ausgehöhlten Uferpartien versteckt.
Elles restent cachées sous de gros blocs de pierre, des racines ou des cavités du fond.

Si nascondono sotto ai blocchi di roccia, tra le radici oppure nelle fosse scavate dalla corrente.
They hide below the rocks, between roots, or in pits dug out by the waterflow.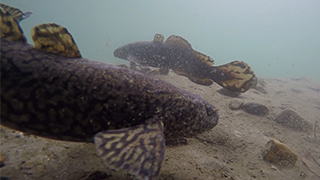 Begibt sich ein laichbereites Weibchen auf die Laichgründe, folgen ihm sofort die Männchen in grosser Zahl.
Lorsqu'une femelle se déplace vers les frayères, elle est suivie immédiatement par de nombreux mâles.
Quando una femmina matura si aggira intorno al luogo di frega, viene immediatamente raggiunta da diversi maschi.
When a mature female swims around the spawning site, many males immediately join her.
In einem dichten Knäuel werden dann Eier und Samen abgegeben. Das kann durchaus auch am helllichten Tag geschehen.
Regroupés en un dense paquet, les poissons libèrent dans l'eau œufs et sperme. Ce phénomène peut également s'observer en plein jour.
In un denso groviglio vengono rilasciate uova e sperma. Questo evento magico può accadere anche in pieno giorno.
Eggs and sperm are released in a dense ball. This event can also happen in the middle of the day.